24V UV Air Purifier with AirBRIGHT™
A whole-house UV air purifier that removes odors, allergens and more
With today's airtight homes, odors from cooking and pets, as well as potentially harmful viruses and bacteria are trapped inside. Our New 24V UV Air Purifier with AirBRIGHT™ Odor Absorption works in your home's ductwork to remove airborne particles such as pollen and dust, as well as odors from food and pets. The air purifier's ultraviolet light addresses contaminants such as the surface mold on your air conditioning coils. With this one air purifier, you can improve the air quality and breathe easier throughout your house.
Air Scrubber Plus® with ActivePureTM Technology
Air Scrubber Plus® is a revolutionary new system designed to help eliminate indoor air quality risks by reducing air pollutants, VOCs (chemical odors), cigarette smoke, dust, pollen, mold, odor-causing bacteria and odors caused by pets and cooking.
Air Scrubber Plus® with ActivePureTM technology, cleans, freshens and purifies the air using specialized germicidal UV light waves along with a proprietary catalytic process that creates enviroscrubbing molecules of oxygen and hydrogen, just like nature's outdoor scrubbers.
Protect Your Home and Family
Air Scrubber Plus® ensures that air ducts, tables, furniture, countertops, bathrooms, doorknobs and practically every surface you touch is cleaner and safer for your family. It's as simple as turning on your fan, furnace or air conditioning system.
Once installed, Air Scrubber Plus® goes to work right away by copying the power of nature outside to clean your home inside. As air passes through the unit, it is transformed by our unique technology. ActivePureTMscrubbers then travel through the ductwork into every corner of your home, effectively treating and purifying the entire house.
Protect Your Expensive HVAC System
Heating and cooling systems can cost as much as a new car! Air Scrubber Plus® extends the life of your existing heating and air conditioning system by trapping dirt, dust and other debris before it enters through the filter, damaging the coils and blower that keep your system running effectively. A protected HVAC system can last up to 15 years or more at peak efficiency, saving you money on your utility bill every month and reducing the need for expensive service calls. A dirty, unprotected system may need to be replaced in as little as five years.
Air Scrubber Plus® Reduces Dangerous Airborne Contaminants
The United States Environmental Protection Agency (EPA) has ranked indoor air pollution among the top five environmental dangers. The quality of indoor air can be two to five times (and even up to 100 times) more polluted than the worst outside air.
Air Scrubber Plus® with ActivePureTM technology reduces up to 99.9% of the harmful contaminants throughout your home.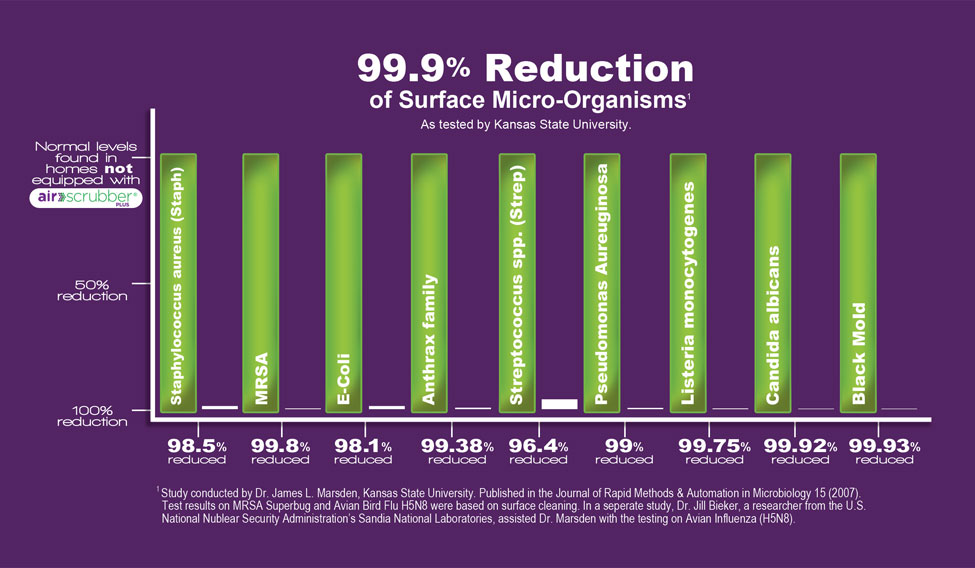 Service or Estimate Request
For fastest service call (281) 376-2224